Amazon Stick OR Amazon BOX (FireStick)
Many devices can use IPTV services…
If you use VLC, Android, Smart TV, Roku, Apple TV, I Phone, Kodi … then need to use M3U file. If you do not already have an account to use IPTV, please sign up for a free 48h trial or contact us for the best support.
Please select the right device you use in the account registration, M3U file and EPG file will be sent to your email immediately after registration. If you use multiple devices then you need to contact Skype for the fastest support …
If you are using a MAG or STB Application using a MAC address, you need to enter your MAC address in the registration box, with the standard syntax of 6 pairs of digits and a colon.
If you enter the wrong MAC address then your device will not be able to work, if you have trouble or device does not work please contact us immediately, your problem will be resolved.
How to install Own STAR IPTV App on Amazon FireTV Stick via Downloader?
Previously we have spoken about STAR IPTV, its benefits, and how to install it on an android device. We also explained how to work with Amazon FireTV Stick. Now in this tutorial, we`re going to explain the installation procedure of STAR IPTV on Firestick as it is not directly accessible from the android market on Amazon Sticks.
This tutorial will cover the following phases:
If you use Amazon stick/box, Then open downloader app and Fill this code on url Bar: 61768
and if you use Android box's then type this link or download from this link : https://aftv.news/61768
-Enabling the installation of third-party apps on Firestick
-Downloading the STAR IPTV onto your Firestick and installation
-Setting up STAR IPTV and installing IPTV on it
-Enabling the installation of third-party apps on Firestick
So usually we open the app market on Amazon FireTV Stick, search the desired app and install it with one click. Sometimes, like our case here, we need to install apps from outside the market. Firestick calls it Apps From Unknown Sources. To do so, you need to enable this installation method on your Firestick. To learn how to read this tutorial.
-Downloading the STAR IPTV onto your Firestick and installation
Now we need to download the .apk file of STAR IPTV onto our Firestick. For this, we need an app called Downloader which is installed by default on Firesticks usually and if not, search and install it from the app market.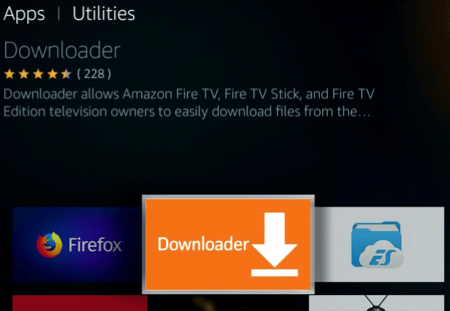 1-From utility section, open Downloader.

2-First click on Home to bring up the address field then type the URL from which you can download the .apk file of STARIPTV. We suggest the URL from STAR IPTV APP: http://stariptv.best
3-After doing so, click Go and the file should start downloading. The size is around 69MB.
4-Installation might take a few seconds.
5-If all goes fine, the App Installed message should show up.
6-Now choose an open Application.
7-Fill the Login Details That you Have received in your email
8-Tadaa!
FOR RESELLER PLEASE CHAT WITH US OR CONTACT US. THANK YOU.
Vision is becoming the Star IPTV Providers in the World, we have many years of experience, we give you the stability and reliability of the service. We provide about 10000+ channels and 9600 VOD from more than 41 countries, you will not find a better service on the internet, we always strive hard for perfection and your satisfaction. Because We love our customer.